Posted by administrator | 15/07/12 | Tagged
Credit Card
COST COULD INCREASE FOR CREDIT CARD USE
News from U-T San Diego:
Retailers will be able to charge their customers more for paying with credit cards under terms of a multibillion-dollar antitrust settlement announced late Friday.
MasterCard, Visa and major banks, including JPMorgan Chase and Bank of America, agreed to pay more than $ 6 billion to settle accusations that they engaged in anticompetitive practices in payment processing.
The settlement is the culmination of a lawsuit brought in federal court on behalf of about 7 million merchants in 2005. Merchants said the companies engaged in price-fixing to charge high fees for processing credit and debit card payments.
In addition, the merchants claimed, the payment processors unfairly banned stores from charging credit card customers more for their purchases.
If the proposal is approved by a judge and fully executed, it would represent the largest private antitrust settlement in history.
"Reducing these fees will reduce costs, ultimately resulting in lower prices for consumers," said Patrick J. Coughlin, senior trial counsel at San Diego-based Robbins Geller Rudman & Dowd and one of the merchants' attorneys.
Related News:
Parents face choice on cards for college kids
News from Boston.com:
CHICAGO—Parents of college-bound students have a decision to make as offers stream in for their soon-to-depart teenagers.
Should they send their green freshmen off to campus armed with a debit or credit card to learn how to handle money? Or is it better to keep firm control through the Bank of Mom and Dad?
The "correct" answer will vary by family and personal preference.
The Credit Card Act that took effect 2 1/2 years ago made it much harder for anyone under 21 to get a card. Gone are the days of card issuers racking up scads of new customers on campus by handing out free T-shirts or rewards points for spring break.
"In the old days, if you could fog a mirror could get a credit card," says Adam Levin, chairman and founder of Credit.com, a San Francisco-based company that provides information about credit products.
Under-21s can still obtain a credit card if they have a qualified co-signer or proof of sufficient income to repay the debt. And card issuers still market aggressively to college students, targeting them with pre-screened mail offers…………… continues on Boston.com
---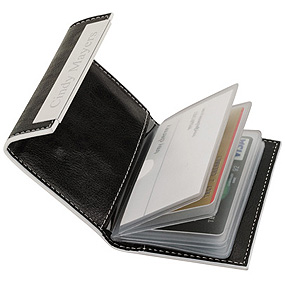 "Hold your favorite photos, credit cards and business cards in a soft leatherette folding case. The card holder also has a magnetic closure flap and a silver engravable metal plate. Comes with 8 2″" x 3-5/8″" clear plastic sleeves. Free personalization is included. size: 4-1/4″"W x 3″"H"
List Price:
Price: 12.95